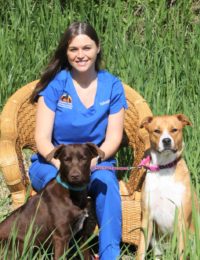 Veterinary Assistant
Tabatha graduated from college in Nutrition Science for humans. However, her heart was always in veterinary medicine and she is so thankful this is where she ended up.
Tabatha absolutely loves helping animals and has rescued many animals. She also fosters parvo puppies from local rescues. She has a special interest in animal nutrition, special procedures (ultrasounds, CT, scopes, etc.), and animal behavior. She is also fear free certified.
She is married to her high school sweetheart, David and they have four children. They live on a farm and have many rescue animals. Tabatha loves walking her dogs, swimming, traveling, and spending time with friends and family.