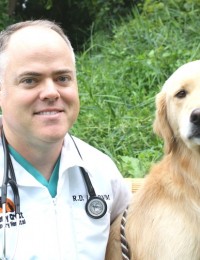 DVM, ABVP
Dr. Ryan Less was born and raised in Dubuque, Iowa and became fascinated with animals from early childhood. He became interested in veterinary medicine by caring for family dogs along with voracious reading about animals. Inspired by the books of James Herriot, he spent time shadowing and working for veterinarians during high school and decided this was the only career for him. After two years of pre-veterinary studies at Iowa State University, Dr. Less was accepted to the Iowa State University College of Veterinary Medicine. He graduated with distinction in 1998 and was the recipient of the Pearson Award for Excellence in Small Animal Surgery. Following veterinary school, he completed a one-year rotating internship in small animal medicine and surgery at Colorado State University in Fort Collins. During his internship he published the first known case report of a feline pericardial cyst in the Journal of the American Animal Hospital Association. Dr. Less joined the Kimberly Crest Veterinary Hospital team in June of 2000 and became the chief surgeon in 2002. He achieved Board Certification in Canine and Feline practice by the American Board of Veterinary Practitioners in 2004. He is a member of the American Veterinary Medical Association and the Iowa Veterinary Medical Association.
Dr. Less has a passion for surgery and has limited his practice to surgery on dogs and cats since 2007. He strives to treat every patient as his own, and his greatest professional joy is seeing patients regain mobility and quality of life after surgery. He has over 20 years of experience performing a wide variety of orthopedic, soft-tissue, and spinal surgeries. Dr. Less has completed numerous advanced courses in orthopedic surgery and enjoys staying up to date on cutting-edge research and surgical techniques. He has performed over 10,000 advanced surgeries including over 1500 TPLOs. Dr. Less has been performing canine total hip replacement (for the treatment of canine hip dysplasia) since 2010 after completing the Certification Program through Biomedtrix.
In his personal time, Dr. Less enjoys spending time with his wife Marilynn and their golden retriever Kula. He also enjoys spending time with extended family and friends, and outdoor adventure. Some of his hobbies include travel, hiking, camping, running, skiing, photography, gardening, reading and watching Cyclone sports.