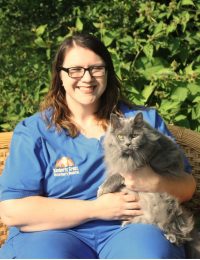 Inventory Specialist
Jessica joined Kimberly Crest in October of 2018. She received her Veterinary Assistant Certification from Black Hawk Community College in 2013 and has had a passion for caring for animals ever since.
Jessica and her husband Will have three children; Briley, Dominic, and Wyatt. They also have two cats; Muffin and Stanley along with Pfeiffer their dog.
Jessica's enjoys spending time with her family, cooking, and listening to her vinyl collection.