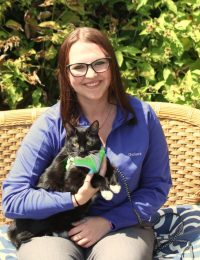 Client Care Specialist
Chelsea graduated from Black Hawk College-East Campus in 2018. She dual majored in Agribusiness and Agriscience.
She joined us at KCVH in April of 2019, took a brief detour to the agriculture business then came back to us in January of 2021. Chelsea's heart belongs in vet med and has been working in the field since 2014. Her pets include her cats Koe, Ron and Blue and her horse Tucker.
In her free time, she enjoys being outside, spending time with friends and family, and shopping.
Chelsea also is our inventory specialist.