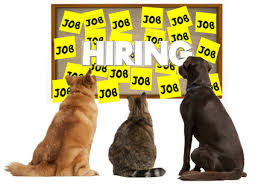 KCVH is now hiring both a Client Care Specialist and Registered Veterinary Technicians!
Our Client Care Specialist (CCS) focuses on client communication, medical records, and maintaining the flow of the hospital. He or she is the first and last contact clients have with the hospital and is key to creating lasting impressions. The CCS must have exceptional client service and communication skills, computer literacy, handle payment and financial issues, ability to multi-task, friendly attitude and confidence to deal with stressful situations. Client Care Specialists work directly with veterinarians, technicians, veterinary assistants, and kennel staff daily to provide consistent patient care and communication. Some of the job responsibilities include scheduling appointments, greeting patients/clients, triaging appointments, taking payments, and filling prescriptions as ordered by veterinarians.
Our Registered Veterinary Technician position offers a tremendous variety of caseload, mentoring by 6 RVTs on staff and opportunities to learn advanced techniques such as epidural administration, chemotherapy, and blood transfusions. We foster a collaborative, team-based working environment. We encourage constant learning and there is always room for advancement of skills in multiple areas of the hospital. We treat our veterinary technicians like the true professionals they are and believe they should be compensated accordingly!
Our privately-owned, AAHA accredited hospital is located in Davenport, Iowa. We are a referral center and specialty practice for the Quad-Cities and surrounding areas. Our specialty care includes but is not limited to advanced internal medicine, orthopedic surgeries, advanced soft tissue surgeries, CT, chemotherapy, advanced ultrasound, advanced dentistry, endoscopy, rhinoscopy, bronchoscopy, cystoscopy as well as behavior consultations. In addition to our referral caseload, we have a bustling general practice side. We are a four-doctor practice with two ABVP doctors on staff full time. We are a cat friendly practice and follow fear free techniques with a fear free certified doctor and staff members. Our commitment is to provide the best care to our patients while providing the best work environment for our team members.
We are also proud to offer a comprehensive benefits package including a competitive wage, paid time off, continued education, scrubs allowance, paid holidays, employee pet discounts, 401K, health insurance, disability/life insurance, and bonus potential.
These are both full-time positions in which attendance is essential.  If you are a highly motivated, enthusiastic Client Care Specialist or Registered Veterinary Technician and want to take part in providing the best veterinary medicine possible, please apply today!
If you would like to apply for either position, please call 563-386-1445 or fill out an employment application and submit along with your resume. You may fill out the application and send via email ([email protected]), or regular mail to:
Kimberly Crest Veterinary Hospital
Attn: Ashley Houzenga, Hospital Manager
1423 E Kimberly Road
Davenport, IA 52807
All applications and resumes will be kept and considered for open positions for a period of one year. EEO.
We are always on the lookout for talented professionals. If you have a background in veterinary medicine or have recently graduated from an animal sciences or veterinary technician program and would enjoy working in a very fast paced hospital, we would like to hear from you!
Oops! We could not locate your form.